30 Money Saving Meals PLR

Grocery prices are going through the roof and yet you still want to serve your family nutritious tasty meals.

The basics of diary, produce, and meat are projected to keep increasing in price through 2022.

It seems that groceries cost more every week. And it's true. And it's not just in the United States, it's globally.

As gas prices increase, grocery prices will continue to increase. It costs more to get the food from the farmers, manufactures and wholesalers to the grocery stores
Dee Power has put togther a PLR package to help
The Best Budget Burgers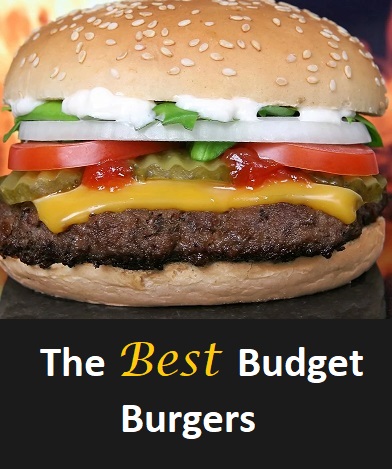 Meat is the most expensive item on your shopping list, but who can resist a big juicy burger at a summer cookout, a fall tailgate party, or a spring picnic? You have your choice of beef, tuna, chicken, even turkey. Boost the flavor and deflate the cost with these Best Budget Burgers.
10 fabulous burger recipes
Terrific Tuna Burgers with a Tangy Lemon Sauce
Yes, you could use tuna steaks but why not use canned tuna? It's much less expensive. No one will notice the difference, ok almost no one. Top these burgers with a tangy lemon- dill sauce and serve the burger tucked between sour dough bread slices with extra lettuce and chopped dill pickles.
Lemon Sauce
Zest of one lemon divided
2 tablespoons freshly squeezed lemon juice
½ cup sour cream or yogurt
¼ cup chopped dill weed or dill pickles
3 chopped scallions
Burgers
1 cup finely shredded peeled summer squash
3 cans (5 oz) chunk light tuna fish, drained
½ cup bread crumbs
1 beaten egg

Combine the sauce ingredients and set aside
Mix the summer squash, tuna fish, bread crumbs and beaten egg. Form into 4 patties. Spray a sauté pan with just enough oil to coat. Cook the burgers over medium heat on each side for 3 or 4 minutes. Just enough time to cook the egg and the summer squash.
Serve on a sour dough bun with a dollop of the lemon sauce
Double Duty Dinners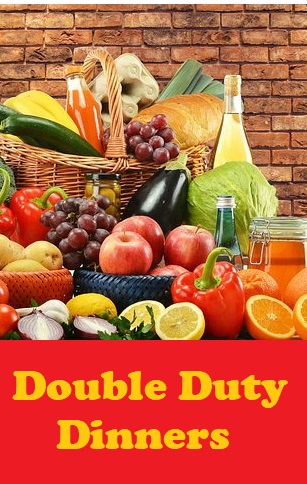 Cook Once. Serve twice. Save money and time. Let's not call these leftovers. Rather, call them "first overs." You prepare dinner and at the same time put together another yummy dinner with the intentional leftovers from dinner one. This is not making a double portion and serving the same dinner twice. Rather using the same ingredients, and a few extra ingredients to make a different dinner.
The guide includes 10 different ideas for the Double Duty Dinners
Day One - Roast chicken thighs, corn, baked tomatoes
Dinner Two - Southwest chicken tostados. Tostados are simply a flat crisp corn tortilla. If you can't find them, use a base of corn chips. Shred the chicken, Saute an onion. Add corn and baked tomatoes, along with a can of drained diced tomatoes with jalapeno peppers or a cup of prepared salsa, a can of chili beans, and of course, the chicken. Prepare to this point then refrigerate or freeze. When ready to serve, heat through. Serve on a tostado. Top with shredded cheese. Add chili pepper or hot sauce to amp up the flavor.
Stuff It Hot or Cold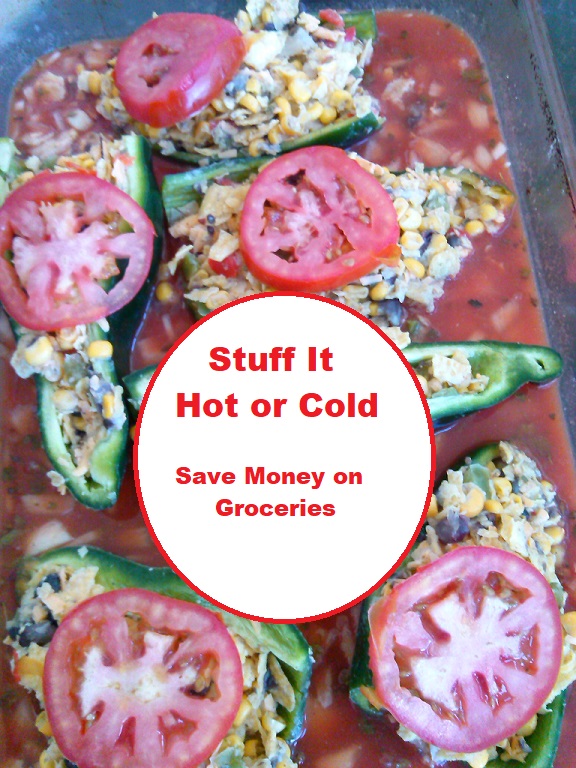 Many vegetables take to stuffing as do fruits, such as apples and melons. Stuffed veggies or fruits are really a one dish meal, so you're saving time and money as well as less clean up. Combine leftover meat with carbs -- rice, beans, crackers or bread crumbs, seasonings and fresh vegetables. As the vegetables cook they release liquid which moistens the filling. Don't forget to season.
Spray a baking pan with oil so the vegetable doesn't stick. Bake the stuffed veggie for 30 minutes at 350 F. Pierce the veggie with a fork. If it gives, it's done.
For each serving use a whole medium size vegetable or half a large one, 2 to 3 ounces of meat, 1/2 cup carbs and a few tablespoons of sauce. For example to serve 4 people you would need 4 medium zucchini, 1/2 to 3/4 pound of meat, 2 cups of carbs, and 1 cup of sauce.
You recieve 10 different tips for stuffed vegetables from apples to Zucinni.
Save Time Save Money
Wouldn't you rather focus on driving traffic to your site instead of on content creation? Maybe you like to sell rather than write. Marketing is your passion…GREAT! We are here to do the writing for you. Not just the writing, either.
Your time is valuable--make sure you focus on what you do best.
Save literally HUNDREDS OF HOURS by using our already-created, ready-to-go PLR Strategic Bundle. Think of what an hour of your time is worth and multiply it by those hours saved…
Or, think of the cost if you hired someone on a freelance basis to research this topic and write all of this content. Again, many, many times what we are charging for this PLR package.
Use This PLR Package in Many Different Ways to BUILD YOUR ONLINE BRAND:
Enough content is included in this PLR package to start a new website or blog. Of course you can always add to your current site.

Offer readers affiliate products such as slow cookers, knives, blenders, instant pots and more.

Use the PLR as a starting point to create your own ebook.

Use our content as a basis to inspire your own creativity and generate future content yourself.

Promote your site and build your mailing list by giving away this content when readers sign up.

Give the PLR as a thank-you to customers who have bought from you.

Use the PLR content to create your own webinar.

Create your own podcast series, or newsletter series, using the PLR content as topics.

Use it as content for your blog. It can be a chore to come up with new blog posts to make sure you stay front and center with your readers. Our content is ready for you to plug in right now!
Any problems please email dee @ deepowerofplr. com Remove the extra spaces, please
No refunds on this product.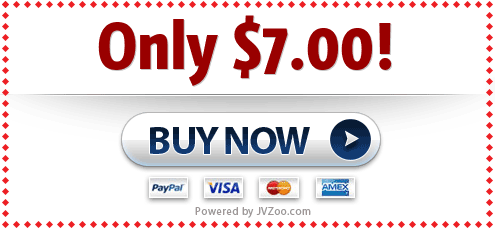 There are only 3 restrictions. 1. Do not put oour names as author. 2. Do not resell as PLR. 3. Do not resell the photos.
Thanks Dee Power
Copyright Profit Dynamics Inc. 2022